Russia's spectacular stadiums await World Cup kick-off
Comments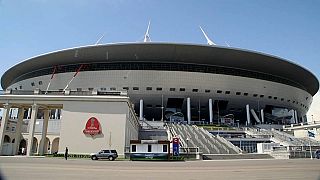 With just a week till the World Cup begins and some of the masterminds behind Russia's stadiums are excited to put on a show.
The spectacular Saint Petersburg Stadium is among the most expensive sporting arenas ever built, estimated to cost almost €1 billion.
The 67,000-seater will host Russia's Group A match with Egypt as well as one of the Semi-Finals.
Former Spanish International footballer and 2010 World Cup Winner, Carles Puyol; "I went down to the pitch, it is impressive, although the stadium is empty at the moment. I can imagine that playing in front of a full stadium will be fantastic and impressive and it's made me want to play here."
In southeastern Russia lies the Samar Arena, perhaps the most striking of the tournament's 12 stadiums.
The 44,000-seater will host Russia's key Group A game with Uruguay as well as two knock-out matches.
Anatoly Barannikov, Chief Architect of the Samara Arena, said; "The design of the stadium is stipulated by its location and symbolism of the region. Initially the draft name was Space Arena. The dome, looking like a flying saucer, is a symbol of space".
With Russia's eye-catching stadiums primed and ready, organisers will be hoping the football itself is just as spectacular.