Russia 'to expel 23 British diplomats' as political crisis deepens
Comments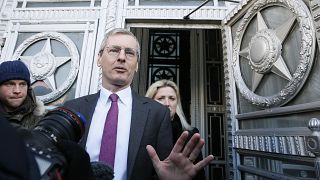 -
Russia has announced it will expel 23 British diplomats and revoke permission for a British consulate in St Petersburg.
The British ambassador was alerted to the expulsions on Saturday morning.
The move is a response a similar expulsion by Britain, which has accused Russia of being behind the poisoning of former spy Sergei Skripal and his daughter in Salisbury earlier this month.
Russia's ambassador to the UK, Alexander Yakovenko, said Britains response has been a "gross provocation" against Russia and the ensuing investigation is "absolutely un-transparent and it's secret."
He said: "Nobody has access. Have you seen photos of the Skripal in the hospital? Have you seen this?"
The expulsion comes as British police sealed off the house of Russian businessman Nikolai Glushkov after his body was discovered in southwest London on Monday.
A murder investigation is underway.
The victim was an associate of late Russian tycoon Boris Berezovsky and a former deputy director of Russian state airline Aeroflot.
Russia's Investigative Committee is opening a criminal investigation into the attack and said it was ready to cooperate with Britain.