Innovators recognised at European Inventor Award
Comments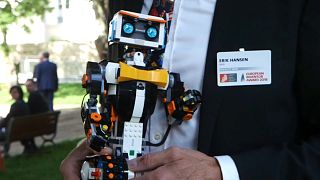 For a few hours a small town outside Paris welcomed some of the world's most 'beautiful minds'. The European Inventor Award organised by the European Patent Office celebrates inventors not just from Europe, but also from the US and Canada.
And for the first time, the award recognised the strong contribution of women inventors in many fields. Agnès Poulbot has developed a 3D tyre-tread design that both motorists and environmentalists will applaud.
"The big advantage is the level of fuel consumption. We can save a litre for every 100 km. This means a driver who travels 100.000 km per year will save 1000 litres of diesel annually," she says. "At the same time, CO2 emissions in the environment are reduced by around three tonnes per year."
The widespread use of magnetic resonance imaging (MRI) as a medical diagnostic tool is thanks in large part to German biophysicist Jens Frahm. He has now developed the fast low angle shot (FLASH) scanning technique that accelerates MRI scan speeds by a factor of 100 and makes MRIs practical for clinical application.
"There is a whole range of new applications that will brought by applying MRI (Magnetic Resonance Imagining) in the future," he explains. "For example, all the body functions in motion or physical process that cannot be studied."
Benoit Battistelli, President of the EPO, leaves office in a few weeks. His legacy, he says, is a European Unified Patent.
"There are three main advantages," he says. "The simplification of procedures with one intermediary, the EPO; reduced costs at 70% less for the same level of protection and a greater legal efficiency thanks to a system in force all over Europe."
Euronews correspondent Claudio Rosmino explains that global competition for innovation is tight.
In 2017, China alone presented half of the worldwide patents.
Europe's response starts from here and from the European Unified Patent which will come into force by 2019.