Canada and France unite ahead of G7 summit
Comments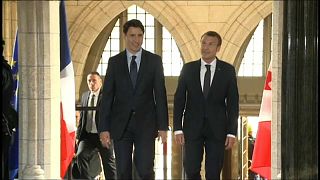 Canadian Prime Minister Justin Trudeau and French President Emmanuel Macron have both expressed support for strong multilateralism for global issues ahead of the G7 summit in Quebec.
The two leaders are united in the trade war between Washington and its allies.
They also say they'll not abandon either the nuclear agreement reached with Iran in 2015, nor the Paris agreement against global warming.
Trump says he won't back down from his tough stance on trade.
So he could feel isolated Friday and Saturday at the hotel in Charlevoix.