Beekeepers mourn declining bee numbers
Comments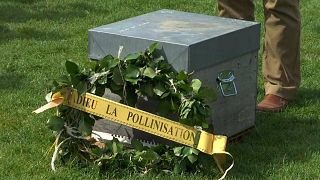 French beekeepers are raising the alarm over what they say is the terrifying rate at which bees in France are dying.
At a mock funeral in Paris, they called on the government to come to the rescue and take urgent action to stave off an ecological disaster.
They point the finger of blame at pesticides which destroy insects but have a knock-on effect through the food chain. Beekeepers say an average of 30 percent of bee colonies died following last winter through pesticides use across the country.
"Some of them (beekeepers), especially the young ones, are going to have to close shop, and (the government has) to become aware that there is a serious ecological problem which is taking place," said Thierry Colin, a beekeeper from Brittany. "It's been more than 20 years since we've started talking about this, and no measures are being taken."
They are calling for a support plan to deal with the heavy losses and the restoration of a viable environment for bees.
An EU court upheld last month a partial ban on three insecticides known as neonicotinoids, saying that the European Commission had been right in 2013 to restrict their use to protect bees.