Conte outlines government agenda ahead of confidence vote
Comments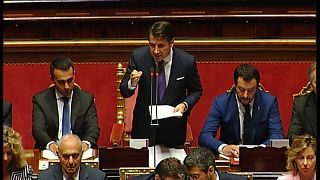 Italy's new Prime Minister, Giuseppe Conte, has promised to redistribute migrants in the EU and review sanctions against Russia.
He was speaking in parliament ahead of two confidence votes which are expected to confirm the coalition government of far-right and Eurosceptic parties.
He said: "We will forcefully seek to overcome the Dublin Regulations in order to obtain the effective respect of the principle of equal distribution of the responsibility to set up an automatic system of obligatory re-distribution of asylum seekers."
Conte's first policy speech since being sworn in also spoke of taking a softer line on Russia.
"First of all, we intend to reaffirm our convinced membership of NATO. We will support opening up to Russia. We will push for a review of the sanctions system, starting with those that risk humiliating Russian civil society.:
The coalition is expected to win the confidence vote as the two parties hold a combined majority.
Later this week Conte will attend the G7 summit in Canada and will take part in a key EU summit at the end of the month.