An unidentified dinosaur sells for over 2 million Euros at Paris Auction
Comments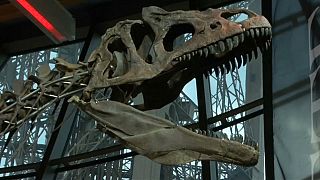 An unidentified dinosaur skeleton has fetched over 2 million Euro's at a Paris auction.
It would have been 9 metres long and is believed to be a new species.
The fossil was discovered in Wyoming in western United States in 2013.
Scientists say it's known to belong to a large carnivorous dinosaur and it has several differences to other species.
An unnamed French art collector has bought the relic and it's understood he'll be presenting it to the public.
Some of the auction proceeds will go to two charities working with endangered species, including cheetahs and ocean wildlife.