Serena Williams withdraws from French Open before match against Sharapova
Comments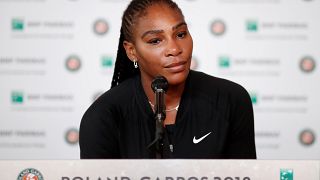 Serena Williams withdrew from the French Open on Monday, right before facing off against Maria Sharapova in an anticipated fourth-round match.
The 23-time Grand Slam champion, who is making a comeback after maternity leave, told a news conference she had a pectoral muscle injury.
"Unfortunately I'm having some issues with my pec muscle. Right now I can't actually serve it's kind of hard to play," said the 36-year-old.
"I'm having an MRI (scan) tomorrow, I'm going to stay here to see the doctors and see as many specialists as I can. I won't know (how serious the injury is) until I get those results."
The rivalry between the two former French Open champions was expected to delight tennis fans as the two women made their respective comebacks on the court.
Of the 21 matches between Russia's Sharapova and Williams, the American came out on top 19 times.