Man remanded in custody over Babchenko plot
Comments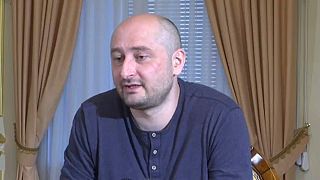 A court in the Ukrainian capital has ordered the detention of a man accused of plotting to murder the dissident Russian journalist Arkady Babchenko.
Borys Herman is accused of handing over almost 13,000 euros to a hitman.
Herman maintains his innocence, saying he'd been contacted about the killing but passed on the information to Ukrainian authorities.
Ukrainian security officials say they staged the murder to expose a Russian plot.
Meanwhile, Babchenko has been defending his actions in playing along with the hoax - amid criticism that it undermined journalistic credibility.
''It wasn't my job to make you believe me or not. My job was to stay alive and protect my family,'' he said. ''That's the only thing, the main thing that I was thinking about. To be honest, the last thing I was thinking about were the standards of journalism."
Babchenko said he had put on a t-shirt with bullet holes and covered himself in pigs' blood. He then watched the news of his death unfold from the morgue.