Kremlin critic Bill Browder: "There's a target on my back"
Comments
By Natalie Huet and Tesa Arcilla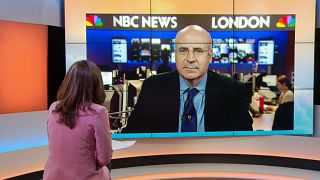 Bill Browder, the prominent Putin critic briefly arrested in Spain this week, says he will continue his mission to hold corrupt politicians accountable – no matter the risks.
"There is a target on my back, there is a target on my front," he told Euronews. "But I don't live in fear… I'm continuing to move forward with my head held high, lobbying for more Magnitsky acts around the world."
On Wednesday (May 30), Browder live-tweeted his detention in Spain on a Russian warrant related to tax fraud – before being abruptly released.
Speaking to Good Morning Europe anchor Tesa Arcilla, he said he took to Twitter to get the world's attention on his case as soon as possible.
"What I've learned throughout the last few years… is that doing things through the official channels doesn't get you the same results as doing things publicly, particularly when it involves bad behaviour on behalf of institutions or the Russian government," he said.
The founder and CEO of investment fund Hermitage Capital Management, Browder led a campaign to expose corruption and punish Russian officials he blames for the 2009 death of his lawyer Sergei Magnitsky.
Browder has accused Russian President Vladimir Putin of a vendetta over his efforts to get other countries to impose so-called Magnitsky sanctions against Russian individuals.
A Russian court sentenced him to nine years in prison in absentia in December after finding him guilty of deliberate bankruptcy and tax evasion.
Browder is now also accusing Interpol of being "disingenuous" about the notice issued for his arrest.
Interpol said on Wednesday there was not and never had been a red notice for Browder's arrest, only a "diffusion notice" circulated by Russia requesting cooperation from other countries.
"I was arrested because Interpol was being abused by the Russians," Browder said.
"Interpol is an organisation that should be catching fugitives, not going after critics of the Putin regime on behalf of Vladimir Putin."
Watch the interview in the media player above and catch more of Tesa Arcilla's interviews on Good Morning Europe, Euronews' daily morning show broadcast live from our headquarters in Lyon.