Geneva is 'first European city' to probe the introduction of drone taxis
Comments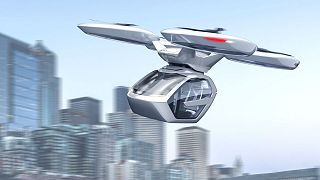 It's a Swiss project that seems so outlandish and futuristic it conjures up images of science fiction film The Fifth Element.
Geneva has this week announced it is going to carry out a feasibility study into using drones for personal transportation.
It evokes memories of Luc Besson's movie, which is set in the 23rd century and features Bruce Willis whizzing around New York in a flying taxi.
The scheme in Switzerland's second-biggest city is part of a European Union-led project to tackle urban congestion.
The study, entitled Drone Taxi, will report its findings early next year and the first air vehicles could be ready for testing by 2020.
Officials told Euronews that Geneva is the first city in Europe to sign up to the Urban Air Mobility initiative and study the possibility of drone taxis.
"Enabling efficient and effective mobility in urban areas is a key challenge and in the EU traffic congestion currently costs almost €100 billion a year," reads the scheme's website.
"The reason behind this initiative is to contribute to bringing urban mobility into the third dimension – the airspace (flying vehicles).
"As such this Initiative will offer a forum for diverse stakeholders already involved, or to be involved, in urban, and urban air, mobility at intra-city and inter-city level."
Geneva sees itself as a pioneer when it comes to drones and claims to be one of a small number of European cities to have a clear strategy around the devices.
Luc Barthassat, Geneva's transport minister, said: "In a region that is growing rapidly and where traffic is becoming more and more saturated, public bodies have the responsibility to explore new ways of addressing the challenges of tomorrow.
It comes just months after manufacturers showcased taxi drone prototypes at the Geneva Motor Show.
Headline corrected to 'European city'.