Top North Korean official holds talks in New York
Comments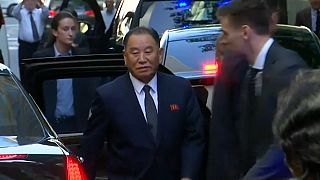 The right-hand man to North Korean leader Kim Jong-un has landed at New York's JFK airport at the start of a rare visit to the United States.
General Kim Yong-chol is in town for talks about the on-off summit between the leaders of the two countries.
General Kim is vice chairman of North Korea's ruling Workers' Party's Central Committee, and as such is the most senior North Korean official to visit the US in nearly 20 years.
On Wednesday evening he met US Secretary of State Mike Pompeo, who earlier repeated Washington's demands for a complete and verifiable denuclearisation of the Korean Peninsula.
President Trump last week called off the June 12 summit in Singapore after North Korea expressed anger at comments made by senior US officials.
Since then the two sides have made fresh efforts to hold it as planned.