Russian journalist Babchenko alive and well
Comments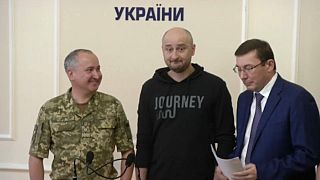 In a shock twist to the reported murder of journalist Arkady Babchenko, said to have been assassinated in Kiev on Tuesday, the Russian reporter walked into a press conference on Ukrainian TV alive and well.
The head of Ukraine's security services said the 'murder' had been staged to catch those who were trying to kill him.
Vasyl Gritsak first announced that the security agency and the police had solved Babchenko's slaying. He then startled everyone there by inviting the 41-year-old reporter into the room.
Babchenko explained what had happened.
"Based on the information we have been given, police had been preparing this operation for 2 months," he said. "They only informed me last month. During this period of time, I saw how hard they worked (...like madmen). And the fruit of their hard work is this operation. The alleged murderer has been arrested."
Babchenko was initially said to have been found bleeding at the entrance to a block of flats by his wife and to have died in an ambulance en route to hospital.
He fled Russia in 2017 after receiving death threats over a post he made on social media.
The 41-year-old is one of Russia's best-known war reporters, and has spoken and written about leaving the country because of repeated threats that he and his family would be harmed.
Police said that they had made one arrest in connection with the extraordinary operation.