Greek workers strike over austerity
Comments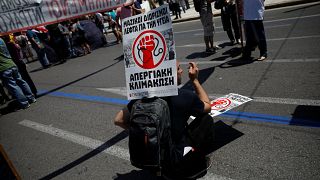 Moving trains, planes and ships were all hard to find in Greece on Wednesday as much of the country ground to a halt. Workers are striking against a new wave of austerity measures that are due to kick in after the nation's third international bailout expires this summer.
Since 2009, Greece has received 260 billion euros in loans in exchange for implementing austerity measures such as public sector layoffs, tax hikes and pension cuts, and unions are angry.
Buses and trolleys were operating on reduced hours and air traffic controllers were due to stage a walkout.
Despite vehement public opposition, Prime Minister Alexis Tsipras in 2015 signed up to Greece's current international bailout, which is due to expire in August.
"They want to make our generation pay when visiting public hospitals," claimed Michalis Giannakos, president of the Hospital Workers Union. "They want us to work until we're 70 and receive 500 euros a month in wages and pension. We don't want such normality, we'll take to the streets on a daily basis".
The government is promising that when the bailout period ends they will reinstate such things as collective bargaining and increase the minimum wage, but workers are skeptical and have warned of more protests. They fear that when the government talks of 'normality' it simply means that austerity will become the status quo.