One million French smokers ditch habit in a year: survey
Comments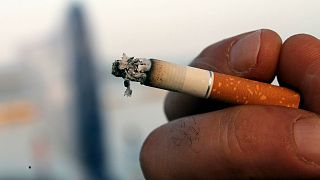 One million people in France quit daily smoking habits in the space of a year, according to a new survey by the country's public health agency, which claims anti-smoking measures like neutral packaging are behind the decline.
In 2017, 26.9% of 18- to 75-year-olds smoked every day, compared to 29.4% a year earlier, according to the study by Public Health France, which described the results as "historic".
The survey also found there was a notable decline in daily habits "among the most disadvantaged", smokers, including low-income earners and the unemployed, for the first time since the year 2000.
French Health Minister Agnes Buzyn said anti-smoking measures, including the so-called "sin" tax on nicotine, non-branded packaging and health warnings, were largely to thank for the "encouraging" new trend.
Sharing the news on Twitter, she wrote: "Good news that strengthens my commitment to the prevention and health of all."
Buzyn plans to raise the price of a packet of cigarettes to €10 by 2020, up from almost €8 today after a series of hikes in recent years.
It is necessary "to continue this major fight against one of the biggest scourges of public health," she said.