French woman wins slacklining contest at 1,300m — wearing high heels
Comments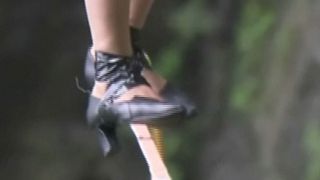 French athlete Mimi Guesdon has beaten competitors from Canada and the US in a slackline competition that saw the three women walking along a rope suspended some 1,300 metres in the air in high-heeled shoes.
Guesdon completed the 55-metre walk in China's Zhangjiajie National Forest Park in nine minutes and 24 seconds on Sunday.
The time was all the more impressive because of her footwear — a five-centimetre-high pair of heels.
Canadian competitor Mia Noblet finished in 22 minutes and 36 seconds, while Faith Dickey from the US failed to cross on all three of her attempts.
Slacklining is the act of walking across a suspended length of flat material called webbing, which in the contest on Sunday was just 25 metres wide.
Following her victory, Guesdon told Euronews she was "very happy".
"For me it was as much of a challenge to walk in heels as it was to do it in front of so many people and on the TV. I am not usually very good with pressure," she said.
"I managed to stop myself from being overwhelmed by the stress and to control the emotions so I was really happy to succeed in this challenge, more than I was to get the first place."