Alan Bean, 4th man on the moon, dies aged 86
Comments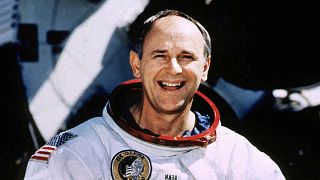 Alan Bean, NASA astronaut the fourth man to walk on the moon, has died, aged 86 on Saturday, after a short illness, his family said in a press release via NASA.
Bean went to space twice, walking on the moon in November 1969 as lunar module pilot for the Apollo-12 mission.
Reflecting on his experience, Bean once said: "I remember once looking back at Earth and starting to think, Gee, that's beautiful.' Then I said to myself, 'Quit screwing off and go collect rocks.' We figured reflection wasn't productive."
In a statement on Bean's passing, NASA administrator Jim Bridenstine said that the astronaut always pushed the boundaries: "In 1973, Alan commanded the Skylab Mission II and broke a world record with a 59-day flight traversing 24.4 million miles. In all, he had a hand in breaking 11 world records in the areas of space and astronautics," said Bridenstine.
Bean became an accomplished artist after his retirement in 1981, painting scene from his space explorations.