France: Thousands protest against President Macron's economic reforms
Comments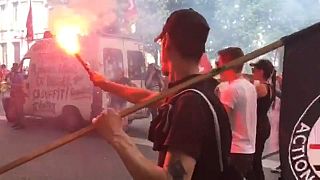 Tens of thousands of people protested across France on Saturday over President Emmanuel Macron's economic reforms.
In Paris, there were around forty arrests after protesters clashed with police.
Protests were organised by 60 unions, political parties, and associations.
One union put the turnout at around eighty thousand whilst the police estimated twenty-one thousand.
Despite the size of the protests, Macron says he won't surrender.
And some of his reforms —like getting rid of job-for-life contracts at the state-owned SNCF railway — are supported by most of France polls reveal.
In Lyon, an anti-Macron protest merged peacefully with an anti-Nazi one and no arrests were reported.
Unions representing nearly six million public sector workers held strikes last week and more are expected.