Meghan Markle's coat of arms announced
Comments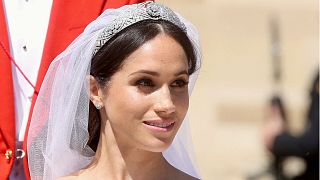 Kensington Palace Friday announced the creation of a coat of arms for Britain's new Dutchess of Sussex, Meghan Markle, following her wedding to Prince Harry.
The Amercian actress "worked closely with the College of Arms throughout the design process," the palace said in a press release.
The design of the arms was agreed and approved by Her Majesty The Queen and Mr Thomas Woodcock, the Garter King of Arms and Senior Herald in England, who is based at the College of Arms in London.
The Dutchess' coat of arms is "both personal and representative" and features a blue background, representing the Pacific Ocean, off the California coast, and two golden rays across the shield, symbolic of the sunshine in her home state.
Three quills also adorn the shield and represent communication and the power of words, while under the shield on the grass sits a collection of golden poppies, California's state flower and wintersweet, which grows at Kensington Palace.
The songbird stood to the right of the coat of arms is called a "Supporter" — it has open wings to symbolise the power of communication.
Sitting atop the shield is a "Coronet," a small crown offered to sons and daughters of the Heir Apparent, in line with the Royal Warrant of 1917.
Markle, Duchess of Sussex, married the Duke of Sussex at Windsor Castle on May 19.