MH17: Prosecutors point finger of blame at Russia
Comments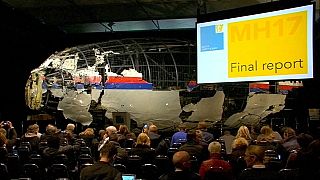 Prosecutors investigating the downing of Malaysia Airlines Flight MH17 over Ukraine say the missile used to shoot down the plane came from a Russian military unit.
The passenger jet was heading from Amsterdam to Kuala Lumpur when it was shot down on July 17, 2014.
All 298 people on board - two thirds of them Dutch - were killed. Most of the others were Australians and Malaysians.
Jennifer Hurst, of the Australian Federal Police, said: "All findings from this forensic investigation confirm the earlier conclusion of the JIT (Joint Investigation Team) that Flight MH17 was shot down by a 9M38-series Buk missile."
Dutch investigators said the missile had been fired from a carrier belonging to Russia's 53rd Anti-Aircraft Brigade.
Russia has denied involvement in the incident.
Dutch Prime Minister Mark Rutte is cutting short a visit to India to discuss the development.
A Joint Investigation Team, drawn from Australia, Belgium, Malaysia, the Netherlands and Ukraine, is gathering evidence for a criminal prosecution in the downing of the plane.
Suspects are likely to be tried in absentia in the Netherlands after Russia used its veto to block a UN Security Council resolution seeking to create an international tribunal to oversee criminal complaints stemming from the incident.