Médecins sans frontières working to stop Ebola spread
Comments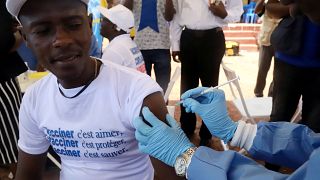 27 people have died in the latest outbreak of the deadly Ebola virus in the Democratic Republic of Congo, raising fears of a repeat of a prevous epidemic which killed 11 000.
Health workers from Médecins Sans Frontières are working to stop the spread - contamination can come through contact with bodily fluids including vomit and sweat.
Coordinator of the emergency operation Jean-Clement Cabrol said: "There's a local risk around Mbandaka but I think we should avoid talking immediately about a global emergency. For now, there is urgency in Congo. The health ministry, Medecins Sans Frontiers and others are doing their best to treat patients first. Beyond that, we can't predict the future. "
The containment operation hasn't been helped by three contagious patients leaving hospital to go to a prayer meeting attended by 50 people. Cabrol says education is the key.
"I think it's very important to explain what this disease is, to explain how to avoid this disease: to wash your hands, to avoid touching patients who vomit," he said. "This shouldn't be done with high profile international staff, but by working with communities and community leaders. "
There have been major advances in medical treatment of the virus in recent years, including the use of an experimental vaccine to protect medical staff.