Watch: Irish voters give abortion arguments in under 60 seconds
Comments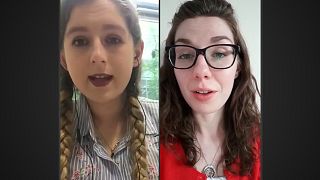 Ireland is set to head to the polls on Friday for a historic referendum that will determine whether the country's near-total ban on abortion will remain in place or be repealed.
Thousands of Irish emigrants, including people on both sides of the debate, are expected to travel home for the referendum, which does not allow postal votes from outside the country and requires returning voters to have been living abroad for less than 18 months.
People living in countries across Europe are among those to have taken time off work and booked tickets on flights and boats so they can answer whether they wish to repeal a constitutional amendment inserted in 1983 that enshrined the equal right to life of the mother and her unborn child.
Euronews spoke to two such voters, who explained in under 60 seconds their reasons for their votes.
'Yes'
Robyn Maguire l 23
Law student l Maastricht, Netherlands
"I'm voting 'yes' in the referendum on the eighth amendment because abortions are already happening in Ireland. I want to make them safe and I want to be able to provide women with the help that they may need before and after.
I'm voting 'yes' so that doctors don't feel like their hands are tied when they're treating the pregnant women of Ireland. I'm voting 'yes' so that seeking adequate medical care does not come with a 14-year potential jail sentence — not only for the women who seek this care but also for anyone who helps them, including doctors.
I'm voting 'yes' to give the women the choice and to let them have control over their medical decisions. They're making the most difficult decision of their life and I would like to make it a little bit easier for them by providing that care in Ireland in the comfort of their own home.
I'm voting 'yes' because I have compassion and I care about the women of Ireland and I want to give them my support by voting 'yes' on the 25th of May."
'No'
Cairín Ní Fhathaigh l 26
Teacher l London, UK
"I feel that we are voting on the most fundamental human rights issue of our time. And we're being asked to remove the right to life of the unborn from our constitution and hand over the decision-making to government, who have already agreed to bring in really liberal laws on abortion — even more liberal than what's in place here in England.
Having experienced firsthand the abortion culture here in England, I know that [many] babies with Down syndrome are aborted here, and having a first cousin with Down syndrome I know that his little life and all people with special needs have the same right to life as us and we shouldn't have that choice to end their lives just because they need that extra help.
I know that a 'no' vote this coming May, on the 25th, will be the only chance we have of stopping abortion on demand coming into our country."