Watch: Trump cancels North Korea summit, Steve Bannon Interview
Comments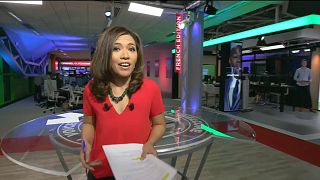 Tesa Arcilla, at Euronews' headquarters in Lyon, brings you the most pressing issues from Europe and across the world.
A specialist team in the show's social media hub The Cube verifies posts from social media, sorting the breaking facts from the hoaxes and misinformation. The Cube team also brings an #AllViews perspective from the web by gathering reactions from across Europe and beyond.
On today's edition, the Cube tells you why you've been getting all those GDPR e-mails. Bryan Carter speaks to former White House strategist Steve Bannon about his views the rise of the European far right.
Our reporter in Vincent McAviney is in Dublin as Ireland take to the polls in a "once in a lifetime" abortion referendum.
The rest of the headlines: A blast in Toronto, Macron is on a state visit to Russia where he met with President Vladimir Putin, and our reporter Jessica Saltz is in Berlin where she will be discussing the effect of the new GDPR regulations on European startups.
You can catch more from the Good Morning Europe team every weekday from 8 am CEST.