Proposed Italian ¨PM Giuseppe Conte accused of lying on CV
Comments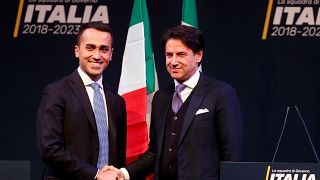 An attempt by a little-known professor to become Italy's next prime minister hit a hurdle on Tuesday following allegations that he had inflated his academic credentials.
The anti-establishment Five-Star Movement and the far-right League, which have drawn up a coalition pact aimed at ending months of deadlock, have nominated political novice Giuseppe Conte as the man they want to enact their radical policy plans.
President Sergio Mattarella, who has the final say over who should be prime minister, has yet to endorse their choice, with new concerns over Conte's resume adding to existing doubts about his lack of experience and limited clout.
After six days of heavy selling, Italy's financial markets regained some lost ground on Tuesday, although fears the Five-Star and the League might appoint a fiercely eurosceptic figure as economy minister took some steam out of a nascent recovery.
The League and Five-Star last week agreed on a joint platform, promising to slash taxes, roll back pension reform and boost welfare in big-spending programme that risked putting heavily-indebted Italy on a collision course with its European partners.
On Monday they finally put forward Conte's name for prime minister -- a Florence law professor who is close to Five-Star, but has no political base or government background.
In a curriculum vitae (CV) posted by Conte on a law association website, he said he had "perfected his judicial studies" at numerous foreign institutions, including Cambridge University, New York University and the Sorbonne in Paris.
The Sorbonne and New York University (NYU) said they could not find any trace of him in their databases.
"That doesn't necessarily mean he didn't come here. But we have not yet found his name in our records," an official at the Sorbonne told Reuters, adding staff would keep on searching through old written records.
Cambridge University declined to comment, but a source said they had not found any evidence he had studied there in September 2001, suggesting instead he might have attended a course run by a third-party in the grounds of Girton College.
"DEFAMATORY CAMPAIGN"
Conte himself made no public comment, but Five-Star issued two statements during the day to defend the professor, saying he had never specified what courses he had taken or claimed to have qualifications that he had not received.
"Conte, like any researcher, went abroad to study, to deepen his knowledge, to perfect his English legal language skills," the party said, adding that the Italian and international press were deliberately distorting Conte's record.
"The defamatory campaign is so explicit and crude that it will only strengthen us," Five-Star added.
Political opponents jumped on the saga to suggest that Conte was not up to running Italy.