No FANS ID, no World Cup, say organisers
Comments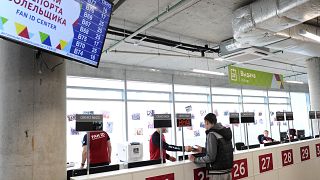 A ticket will not be enough for fans visiting Russia for the World Cup, each supporter will need to apply online for a FAN ID.
The document is part of the World Cup security system. Submitted information will be processed by Security Services.
A call centre has been set up in Moscow to help those with requests denials.
FAN ID provides visa-free entry to Russia for citizens of foreign countries for the duration of the tournament.
In order to apply for FAN ID supportyers need to register online and fill in a form asking for personal information, such as passport data, address and phone number.
Submitted information is then processed by the Russian Federal Security Services, who are authorised to deny applications for fans who don't pass the check.
That includes fans who have caused trouble in the past and have been related to hooliganism.
A call centre has been set up in Moscow to help those with FAN ID requests denials.
According to Russian officials, more than 900,000 applications have been submitted.
Among the foreign countries, residents of the US, Mexico, Argentina, China, Brazil, Peru and Germany have submitted the most applications.
The FIFA World Cup will take place in 11 Russian cities from 14th June to 15th July.