European Leadership Awards: meet the winners
Comments
By Emily Commander, Alice Tidey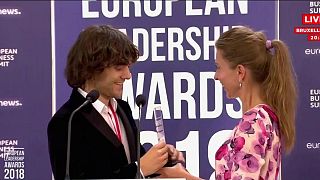 The sons of murdered Maltese journalist Daphne Caruana Galizia received a special award from the President of the European Parliament in honour of their mother during the European Leadership Awards.
Emmanuel Macron, Edyta Kocyk, Boyan Slat, Krisztian Imre and Florin Badita were the other winners on the night, recognised for their outstanding contribution to their respective fields at a ceremony in Brussels.
Six awards were handed out during the glitzy ceremony organised by Euronews and the European Business Summit, including European Leader of the Year, European Innovator of the Year, European CEO of the Year, European Entrepreneur of the Year and European Personality of the Year.
A public vote, which ran until 31 March, whittled down each category to just three nominees. The winners were then selected by an expert jury of eight.
Special award
Through her "Running Commentary" blog, Caruana Galizia was a relentless crusader against corruption in her home country of Malta. Her reporting and steadfast commitment to her mission had turned her website into the island's most popular independent news site. She was murdered in a car bomb in October 2017.
"It's unacceptable that a journalist be murdered in Europe," European Parliament President Antonio Tajani said, adding that the EU is "committed to defending the freedom of the press."
"We shall never forget Daphne and her work," he added.
Her sons, Andrew and Matthew Caruana Galizia, received the award on her behalf.
An emotional Andrew Caruana Galizia denounced the assassination of his mother as an "unmitigated disaster for press freedom in Europe," adding that the failure to bring the people behind the killing to justice showed the "institutional powerlessness in Europe."
He also thanked the European Leadership Awards for "protecting" his mother's legacy by honouring her work.
European Leader of the Year: Emmanuel Macron
French President Emmanuel Macron revolutionised politics in his country when he launched his grassroot political movement En Marche in April 2016. Thirteen months later he was elected to the presidency despite never having held an elected office before. The youthful leader has been very vocal about his commitment to the EU.
In a note read by Philippe Leglise, French Ambassador to the EU, Macron encouraged people to build a new, closer and stronger Europe.
"Europe is not a given, it takes work," Macron warned.
"Europe must rise up to the challenges," he added, saying that the bloc should "remain united" and "not be afraid."
European CEO of the year: Edyta Kocyk
Polish entrepreneur Edyta Kocyk launched her business SiDLY in 2014 out of necessity. Her grandmother was sick and concerned for her well-being, the PhD graduate designed a telemedical wristband which is now used in some of Europe's clinics and hospitals.
In her acceptance speech, Kocyk said that "everything is possible" and that business leaders only need "good motivation" and "global thinking" to succeed.
European entrepreneur of the year: Boyan Slat
In 2013 and at just 20 years-old, Dutch inventor Boyan Slat dropped out of his Aerospace Engineering course to launch The Ocean Cleanup, a system to speed up the recovery of plastic amassing in the world's ocean.
The first prototype was deployed in 2016 and Slat is now preparing the launch of the first full-scale operational system, expected in mid-2018. The entrepreneur was the youngest-ever recipient of the UN's Champion of the Earth award, the organisation's highest environmental accolade.
Slat jokingly told the assembled guests that the award was "rather premature given that we haven't cleaned up the oceans yet."
He expects his company's technology to rid the world of the Great Pacific Garbage Patch — the largest accumulation of ocean plastic in the world located between Hawaii and California — in just five years.
European innovator of the year: Krisztian Imre
Krisztián is the Founder and CEO of EVA. It is his deeply held belief that it is time blind people were given a better way to get around than GPS. This led to him developing the Extended Visual Assistant. EVA can significantly improve everyday activities such as walking, reading, recognising objects and socialising for partially sighted people. His passion has led to a vision of the future for thousands of people.
Although he was seen arriving at the event, Imre appeared to have been hit with a sudden bout of shyness and had disappeared when his category was announced. He, therefore, was not present to collect his award.
European personality of the year: Florin Badita
Romanian Florin Badita founded Corruption Kills, a civic group fighting corruption, after the 2015 fire at the Colectiv nightclub in which 64 people died. The 29-year-old's campaign also helped put an end to the decriminalisation of Romanian corruption cases where damages total less than €45,000 and uncovered several cases of embezzlement. Earlier this year, he was named as one of Forbes 30 Under 30 Europe, Law and Policy.
"We need more transparency so we can investigate" and fight corruption, Badita said in his acceptance speech.
He also called on activists across Europe to collaborate on a common project to help fight fake news.