'Thinking about the consequences of our choices will make a happier world'
Comments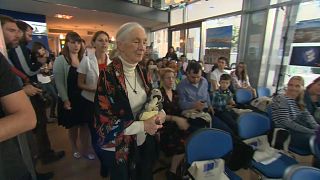 The world-renowned Chimpanzee expert and environmental campaigner Dr. Jane Goodall gave a talk over the weekend at Europe Point in Budapest.
Goodall, from Britain, is best-known for her lifelong study in Tanzania of the family and social interactions of chimpanzees that drew worldwide acclaim, but on this occasion, she also talked about the importance of protecting the environment. She told euronews what we can do as individuals to help.
"So if we start thinking about what we buy, what we eat, what we wear, how is it made? Did it harm the environment? Does it involve cruelty to animals? Is it cheap because of child slave labour? If we are beginning to thinking like that, if we think about the consequences of these choices, then we will start to make a kind of world, which we will be happier to leave to our great-grandchildren."
The audience was also treated to a screening of National Geographic's documentary about Dr. Goodall. Pieced together from never-seen-before archive footage, it looks at the period of her life spent in Tanzania and at the Gombe National Park. Director Brett Morgan presents a very intimate portrait of the scientist.
"Brett has put it together in such a way, that unlike any other documentary of this time it makes me feel right back in the skin of the 26-year-old Jane," explained Goodall. "I think it's partly because there isn't a commentator; it's my voice, he took it from the audio recording of one of my books, "Reason for Hope."
Critics described the documentary as one of the best of 2017.