Royal wedding: Prince Harry and Meghan Markle marry
Comments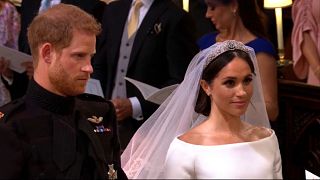 The rings shone as brightly as the sun in Windsor for the wedding of Prince Harry and the former American actress Meghan Markle.
They are now officially husband and wife and Meghan becomes the newest member of the British Royal family.
The couple exchanged vows and rings before the Queen and 600 guests at the historic St. George's Chapel.
Meghan wore a Givenchy dress by British designer Clare Waight Keller. Her prince was in a traditional military uniform of a frockcoat of the Blues and Royals.
They will officially be known as the Duke and Duchess of Sussex after their marriage which was attended by celebrities such as Amal and George Clooney, Tennis player Serena Williams and David and Victoria Beckham.
Prince Harry arrived with his brother and best man Prince William to cheering crowds and a chapel full of many other celebrities such as singers Elton John and James Blunt and actor Idris Elba.
As Princes Harry and William exchanged thoughts before the ceremony the Queen and Duke of Edinburgh arrived to a fanfare.
She was shortly followed by the bride herself along with some of the page boys, bridesmaids and other attendants including the Duke and Duchess of Cambridge's two older children Prince George (4) and Princess Charlotte (3).
The occasion was as serious as it was happy with some unconventional moments including Prince Harry's father, Prince Charles, escorting Meghan up the aisle.
After the vows the Most Rev Bishop Michael Curry, the 27th presiding bishop and primate of the Episcopal Church, from Chicago, gave a powerful address in which he drew on the words of Martin Luther King Jr and, in the 13-minute speech, spoke about the power of love and harnessing the energy of fire.
"If humanity ever captures the energy of love it will be the second time that we have discovered fire," he said.
Bishop Curry is the first African-American to serve as primate of the Episcopal Church.
The Rt Rev David Conner, Dean of Windsor, conducted the service.
It wasn't the only example of diversity meeting celebration; with the Kingdom Choir performing Ben E. King's soul classic "Stand By Me".
The gospel choir also performed Etta James' version of "Amen/This Little Light of Mine" as the newlyweds left the chapel.
After the ceremony the couple arrived on the steps of the chapel and kissed before departing in a horse-drawn procession along a route through the town of Windsor and back to Windsor Castle itself for the reception.
It is being seen as a union with differences: Different backgrounds, different countries.
A translatlantic marriage which some say will add a little diversity to the British Royal family.