Watch live: Putin and Merkel joint press conference in Sochi
Comments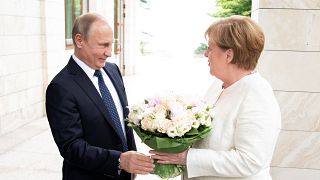 Copyright

Bundesregierung/Guido Bergmann/Handout via REUTERS
Russian President Vladimir Putin hosts German Chancellor Angela Merkel on Friday in Sochi, to discuss the explosive global issues of Iran, Syria, and Ukraine amid a deepening US-European crisis of confidence.
Here are some key points of the conference:
Ukraine
Putin said Russia will keep exporting some gas via Ukraine.

German and Russian diplomats will re-examine options for multinational peacekeeping contingent in East Ukraine.

German Chancellor Angela Merkel stressed there must be guarantees for Ukraine of continued gas transit.

Merkel said next step was to get a mandate for a peacekeeping mission in Ukraine.

Putin said Nordstream 2 pipeline has nothing to do with politics
Syria
Merkel said that the next step should be to come up with a common agenda.

But the situation was made more complicated after the US withdrawal of Iran nuclear deal.

Merkel said she was concerned about Assad decree that could expropriate Syrian refugees and make their return to Syria difficult.

Syria needs help rebuilding itself said Putin
Iran
When asked if there would be penalties if German companies keep doing business with Iran, Merkel answered that Germany and the US have a "firm trans-Atlantic friendship that will continue".