Jailed British-Iranian mother "facing new charges"
Comments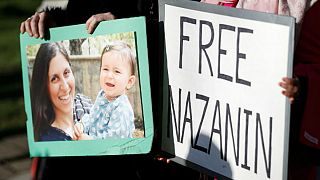 A British-Iranian woman jailed in Iran is facing possible new charges, according to her husband.
Richard Ratcliffe says prosecutors say the case against his wife Nazanin has been reopened.
Nazanin Zaghari-Ratcliffe is serving a five-year sentence in Iran after being convicted on spying charges.
Her husband is urging the UK foreign secretary to mention his wife's case when he meets Iran's foreign minister in Brussels later.
What is Richard Ratcliffe saying?
That the UK foreign secretary should commit to protecting British citizens.
He says his wife's case - and those of other dual nationals detained in Iran - should be "top of Mr Johnson's priority list" at the meeting.
He says the UK is failing to protect British Iranian citizens.
Are other people in the same situation?
Yes. The Iranian authorities are reportedly holding nearly 30 dual nationals, many accused of security offences.
On Sunday, UK Prime Minister Theresa May urged Iran's president to make more progress on their release "on humanitarian grounds".
What was Nazanin Zaghari-Ratcliffe found guilty of?
The Iranian authorities accused the 39-year-old of plotting against the government. She denies the charges, saying she was in Iran to introduce her daughter to her family.
Why is Boris Johnson meeting Iran's foreign minister?
To discuss ways of saving the Iran nuclear deal after the US withdrew last week.
He will meet Javad Zarif in Brussels. They will also meet the French and German foreign ministers and the EU high representative, Federica Mogherini.
Last November, the UK foreign minister apologised for saying 39-year-old Mrs Zaghari-Ratcliffe had been teaching journalism in Iran. Her family and her employer say this is not true.