Figo and Abidal look ahead to Europa League Final
Comments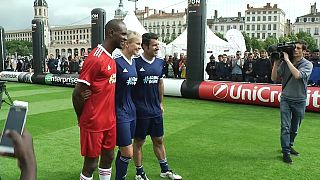 Excitement builds in Lyon ahead of tonight's Europa League Final between Atletico Madrid and Marseille.
Ex-pros Eric Abidal and Luis Figo have been enjoying the city's atmosphere. Both took part in a 'Legends Game' in Bellecour on Tuesday.
Luis Figo, who won the Ballon D'Or in 2000 and played for the likes of Barcelona, Real Madrid and Inter Milan, spoke to Euronews about the big match:
"I just hope that we will enjoy a very good game with goals. I think Atlético Madrid are slight favourites because of what they did in recent years, not only in the Europa League, but in the Champions League as well. But Marseille area good team, with a good coach and havedone fantastic things in this competition. So let's wait and see."
Former French International Eric Abidal won 67 caps for his national team. He also made 76 appearances for the hosting cty's side, Olympique Lyonnais, who are also Marseille's arch-rivals.
Abidal tells Euronews he'll be supporting Marseille but is also predicting an Atletico victory.
"We know this determination, this experience that Atletico Madrid has, With a coach who remains a leader, who has been passing the same message to his players for years. And this opportunity to be able to win a trophy, I do not think they will let it pass. So the Marseille players have to be prepared, but I believe they are."
Tonight's winners will not only lift the magnificent Europa League trophy but also guarantee themselves Champions League football next year.