Around 40 Palestinians have been killed by Israeli troops
Comments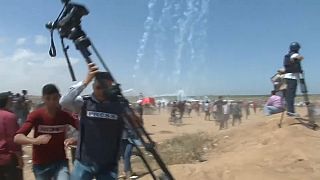 Around 40 Palestinians have been killed by Israeli troops and around 1,800 others injured at the Gaza border according to Gaza health officials.
Tens of thousands of demonstrators streamed to the frontier on the day the U.S. opened its embassy in Jerusalem.
Palestinians see it as clear U.S. backing for Israel rule over the whole city.
Palestinians lay claims to the east of the city.
It's the highest Palestinian single-day death toll since a series of protests dubbed the 'Great March of Return', which began on March 30th, and since a 2014 Gaza war.
Turkey's Foreign Ministry says the decision by the US to move its embassy to Jerusalem encouraged Israeli forces to kill dozens of Palestinian protestors.
Egypts Foreign Ministry also condemns Israels targeting of Palestinian civilians in Gaza.