Hamburg SV relegated for the first time
Comments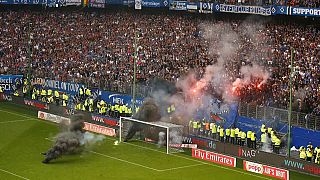 Former European champions Hamburg SV have been relegated for the first time.
It ends their record uninterrupted run in the top division since the Bundesliga's creation in 1963.
The match was delayed for ten minutes when flares were being thrown from behind a goal and onto the pitch by their fans in chaotic scenes.
The game ended with lines of police on the pitch.
The famous 'clock timer' in the stadium which counted the number of hours Hamburg had been in the Bundesliga will now have to be reset for the first time ever.
Hamburg won their final game of the season 2-1 but Wolfsburg's 4-1 home win over Cologne sent them down.