Israel clashes with Gaza protesters for seventh week running
Comments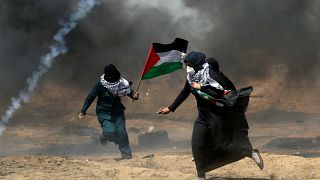 For the seventh week running there have been clashes at the Gaza-Israel border fence.
Protesters burned tyres while Israeli troops fired volleys of tear gas.
The Gaza health ministry says one Palestinian was killed and 49 wounded.
The weekly demonstrations are aimed at ending a ten-year-old blockade of Gaza. Since they started over 40 Palestinians have been killed and more than 1700 wounded.
The protest came just three days ahead of what the leader of Gaza's ruling Hamas group has said will be a march by tens of thousands who could burst through the border fence into Israel.
Israel has warned that it will prevent any border breach.
Monday's border march is meant to protest the planned move of the U.S. Embassy in Israel from Tel Aviv to contested Jerusalem that day.
Another large-scale protest is planned for May 15th when Nakba is marked, a reference to the mass exodus of Palestinians after the creation of Israel in 1948.