One dead, two seriously injured in mosque attack in South Africa
Comments
By Sallyann Nicholls and Judith Prescott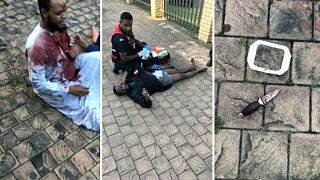 One person has been killed at a mosque near Durban in South Africa after three masked people armed with guns and knives attacked worshippers, an emergency service official said on Thursday.
The men, thought to be Egyptian, entered the building after midday prayer and slit the throats of three people before fleeing in a white car without registration plates, according to authorities. Some rooms had also been set alight.
Prem Balram, a spokesman for Reaction Unit SA, said of the victims: "One of the three has just died on his way to hospital. The other two are in critical condition."
Police cordoned off the area, where a bloodied knife was also recovered from the scene.
The motive remains unclear.
Parliamentarian Francois Beukman condemned the "down right criminality" of the attackers and called on authorities to do everything they can to find them.
"A mosque is a religious institution, and South Africa's Constitution guarantees and protects the right to religious practices," said Beukman, who chairs the Portfolio Committee on Police.
"This kind of attack on three innocent people is totally unjustified. We want our communities to live in harmony, practising their religions without fear."