China: former communist party boss Sun Zhengcai jailed for life
Comments
By Reuters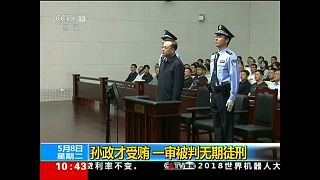 A Chinese court has sentenced Sun Zhengcai, the former Communist Party boss of the southwestern city of Chongqing, to life in prison for corruption, state media said on Tuesday.
Sun is the latest former senior official taken down in President Xi Jinping's war on graft. He admitted in April to an intermediate court in the city of Tianjin that he had taken bribes of more than 170 million yuan (€22 million).
"After the judgment was announced, Sun Zhengcai told the court he admitted his guilt, expressed repentance, accepted the decision, and said he would not appeal," the official Xinhua news agency said, citing the Tianjin court.
Reuters has not been able to reach Sun or a representative for comment since he was put under investigation last year.
Sun, 54, was abruptly removed in July from his post as party chief of Chongqing, one of China's most important cities. He was replaced by Chen Miner, who is close to Xi.
Until then, Sun, one of the youngest of the 25 members of the ruling party's decision-making Politburo, had been considered a contender for top leadership.
Prosecutors charged Sun in February with accepting "huge sums" in bribes during various posts going back 15 years in Chongqing, Beijing, the northeastern province of Jilin, and during his term as minister of agriculture.
He was certain to be found guilty because China's courts are controlled by the party and will not challenge its accusations.