Spanish aid workers on trial for people smuggling in Greece acquitted of charges
Comments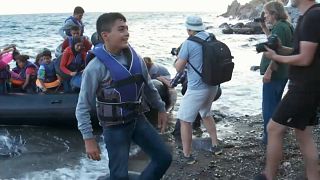 Three Spanish aid workers standing trial on the Greek island of Lesbos, accused of attempted people smuggling, were acquitted of all charges on Monday.
They had faced up to 10 years in prison if found guilty.
Greek authorities had accused Manuel Blanco, Julio Latorre, and Enrique Rodriguez, all firefighters from Seville, Spain, of "attempting to smuggle people" into the European Union.
The group, who were working for the NGO PROEMAID, were detained by the Greek coastguard in early 2016 after they'd returned to port following a search and rescue mission at sea. No migrants were on their boat.
The authorities say the firefighters "attempted to smuggle people into Greece" because "the night (they refer to) they didn't have anyone on board," Manuel Blanco, one of the firefighters and vice-president of the Spanish NGOs Proemaid, told Euronews.
"Justice has been done," said PROEMAID in a tweet. "Manuel Blanco, Julio Latorre and Quique Rodríguez have been acquitted of all charges. This is certainly a great victory for humanitarian aid. We'll be back to save lives!"
They also posted photographs of the three firefighters and their supporters.
"They came here only to help the people, not for money, for sure not for smuggling," said Lara Lusson, spokesperson for PROEMAID ahead of the hearing.
"It has been two-and-a-half really hard years for them and their families. They are completely sure that they will be freed because there is no other possibility. They are calm but also they are kind of afraid."
PROEMAID is a group that recruits Spanish emergency professionals to help people in distress in the Mediterranean.
"They are accused of having towed refugees in order to enter Greek territorial waters," said lawyer Haris Petsikos before they were acquitted.
"This is wrong. There was never such a policy and nor is there now. These people are civil servants, firefighters, some of the best-trained in Spain. They are rescuers certified for land and sea.
"They were here on an official mission sent by their service to assist the Greek authorities. And now they face this accusation by way of an unfortunate indictment in my opinion. They're placing their trust in Greek justice."