Spain rejects mediators call for dialogue as ETA disbands
Comments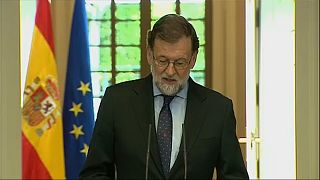 A ceremony has taken place in France to mark the formal end of Europe's last major militant campaign, the Basque separatist conflict.
Gathered in Cambo-les-Bains, a town on the French side of the Basque Country, the mediators acknowledged the 305 former ETA members who are currently in jail in Spain and France.
On Thursday the ETA militant group said its fight for independence for Basque regions in Spain and France was over. Now, peace activists say efforts should concentrate on reconciliation.
"Deep wounds remain. Families and communities are still divided. Further efforts need to be made to recognise and assist all victims. This will require all parties to be honest about the past, a generosity of spirit to heal wounds and rebuild a shared community," said Irati Agorria Cuevas, a 21-year-old from Guernica, best known for being an activist for Basque political prisoners.
But Spain's prime minister Mariano Rajoy again repeated his determination to hold ETA to account: "ETA's crimes will continue to be investigated, its crimes will be put on trial and if necessary sentenced and sentences (already handed down) will continue to be served. There has never been and there never will be any impunity,"
"Spanish democracy has defeated ETA. This victory belongs to all of us, to the Spanish Democrats, to our French neighbours and to all the rest of the European Union who helped us in this battle," he added in a televised address.
ETA announced its decision to end attacks in 2011 and surrendered more than 3.5 tonnes of weapons in 2017. Around 850 people have been killed during ETA's 60-year existence.