Basque separatists throw support behind Catalan referendum
Comments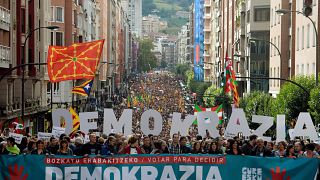 Pro-independence parties in Basque Country are showing their support for Catalonia's referendum on Sunday.
Tens of thousands of people attended a rally on Friday in the capital of the autonomous community in northern Spain backing Catalan separatists.
"I would like independence as the Catalan region is asking for right now, we would like to consider ourselves as Basque country, that we do not belong to Spain, even if we have Spanish nationality on our identity cards," said one participant.
Between a quarter and a third of people in Basque support independence.
Joseba Eguiba, spokesman of the Basque Nationalist Party (PNV), said he was hopeful the region could have its own vote on independence in the future.