May Day: Greek workers march through Athens
Comments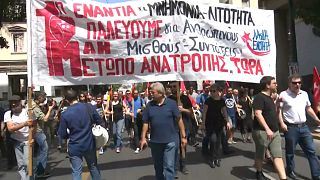 Thousands of Greek workers marched through the centre of Athens on Tuesday ...... one of a series of protests marking May Day.
The demonstrators were protesting against unemployment, austerity measures and the international bailout packages, which have been in force since 2010 to tackle the country's debt crisis.
Museums were shut while ferries remained tied up in port and public transport operated on a reduced schedule.
The protesters marched past Parliament and headed up a major avenue to the US Embassy.
Greece's controversial former finance minister Yanis Varoufakis was among the marchers.
''Every generation of working people and employees like you has a sacred obligation to keep up the fight,'' he said.
''The situation is getting worse every day. There cannot be a way out from the bailout packages as long as we have debts. The rest is fairytales and you know it.''
Euronews' correspondent in the capital Fay Doulgkeri said the main issues of concern to the marchers were high unemployment and the so-called brain drain of young people leaving the country.
At the same time they see no way out of the bailout packages, which are supposed to end in August.