Full acquittal only fair result in Spain 'Wolf Pack' trial, says defendants' lawyer
Comments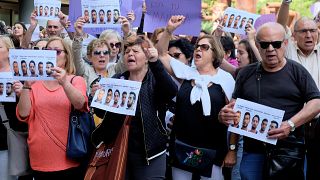 The lawyer of four men accused of gang-raping an 18-year-old woman has slammed a Spanish court's decision to convict them of the lesser offence of sexual abuse, telling Euronews a full acquittal would have been the only fair outcome.
The ruling last week saw five men, including a former policeman and former soldier, sentenced to nine years in prison for the attack at Pamplona's San Fermin bull-running festival in July 2016, where they surrounded the woman, removed her clothes and had unprotected sex, according to a police report.
But while the men were acquitted of the more serious crime of rape, which differs from sexual abuse under Spanish law in that it involves violence or intimidation, lawyer Agustín Martínez told Euronews his clients received the verdict "with indignation."
"For us there is only room for acquittal, so any conviction, no matter how minor, would always be appealed against," he said.
The men, dubbed the "Wolf Pack" after the name of their WhatsApp group, are now moving to appeal the verdict, arguing that the incident was a case of consensual group sex.
The woman will also appeal, according to her lawyer, Carlos Bacaicoa, who argued that the evidence proved there had been intimidation.
The verdict was met with protests in Spain, where people chanted slogans such as "it's not abuse, it's rape" and called for changes to the legislation.
But Martínez believes the reaction to the case would be different if the public had been given full access to the evidence.
"The problem with this case is that it has been understood and tried to be used as a flag to determine issues that have nothing to do with this issue," he said.
"I understand that if the trial had been public and everyone could have had access to the analysis of the evidence, those criticisms that are being voiced right now would surely be distorted."
In particular, he hit out at Spanish Justice Minister Rafael Catalá, who has called for one of the magistrates to be investigated by the General Council of the Judiciary after describing the incident as "sexual acts in an atmosphere of joy and happiness".
"To accuse a magistrate without evidence... in a biased way of having problems when it comes to the ruling on this sentence is something unheard of and a clear demonstration that the minister cannot continue to be Minister of Justice for a minute longer," Martínez said.
He added that video footage of the incident, filmed by the defendants, shows "neither the existence of a sexual assault nor sexual abuse".