9-year sentence for 'wolf pack' sex assailants sparks outrage in Spain
Comments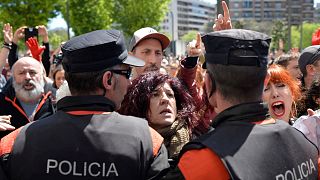 Copyright

REUTERS/Vincent West
There is national outcry in Spain after five men accused of gang-raping an 18-year-old woman were convicted of sexual abuse but acquitted of the more serious crime of rape.
The men, including a former policeman and a former soldier, were all sentenced to nine years in prison and ordered to jointly compensate the victim €50,000.
The state prosecutor had asked for prison sentences of more than 20 years for each of the men.
The group filmed the attack at Pamplona's San Fermin bull-running festival in July 2016, where they surrounded the woman, removed her clothes and had unprotected sex, according to a police report.
The defence team argued the incident was a case of consensual group sex.
Under Spanish law, sexual abuse differs from rape in that it does not involve violence or intimidation.
The trial, dubbed the "Wolf Pack" case after the name of the men's WhatsApp group, has been widely criticised as a cross-examination of the woman rather than her attackers.
The ruling on Thursday drew further outrage, with protesters outside the court building chanting: "It's not abuse, it's rape".
Feminist groups announced protests across the country on Thursday evening, while scores of people in Spain and around the world voiced their outrage on social media, using hashtags including #NoesNo (no means no), #YoSiTeCreo (I believe you) and #LaManada (the Wolf Pack).
"If five people surrounding a girl is not aggression, the question has to be what is wrong with our criminal code?" former Secretary of State for Equality Soledad Murillo said in comments published in El Pais newspaper.