As it happened: Monday morning, April 30
Comments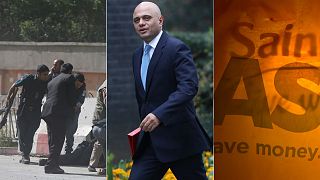 Good morning Europe! Welcome to our live coverage of the European and international news on Monday, April 30.
The main stories today:
Afghan blasts: two explosions have rocked the Afghan capital Kabul killing at least 18 people including a number of journalists who were attacked after arriving to cover the initial blast.
Supermarket merger:The UK's second and third biggest supermarkets have announced plans to merge. Sainsbury's and Asda together would overtake Tesco as the biggest retailer in the country
Northern Ireland Brexit: The leader of the DUP, which is allied to Theresa May's Conservative Party has hit out at EU Brexit negotiator Michel Barnier, describing him as "not an honest broker."
Spanish rape row: Anger in Spain about the trial of a group of men acquitted of rape charges is growing. Social media users are sharing their stories.
UK Home Secretary: UK interior minister Amber Rudd has been replaced by Sajid Javid after she resigned following the Windrush scandal which saw her department attempt to deport people who had moved to the UK after being invited to help rebuild post-WWII. Javid is the son of Pakistani immigrants to the UK.
Follow all the updates below.