UK's No 2 and No 3 supermarkets to merge
Comments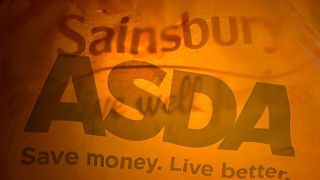 Sainsbury's and Asda supermarkets plan to merge in a deal that could create the UK's biggest retailer with more than a third of the grocery market.
Sainsbury's, formerly the second biggest supermarket, and Walmart-owned Asda, which held the third spot, said they plan to combine to overtake Tesco.
The deal would need approval from the competition authorities.
The supermarkets said the union, which would result in a group with £51 billion (€58 billion) of sales, would cut costs for consumers.
Britain's traditional supermarkets have been suffering amid competition from discount stores such as Lidl and Aldi as well as online giant Amazon.