Trump mocked at White House Correspondents dinner
Comments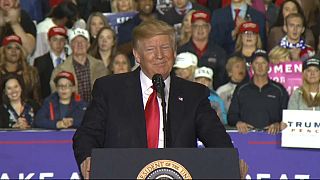 It's a Washington tradition dating back almost 100 years - the annual White House Correspondents' Association dinner where the great and the good, including sitting presidents, are mercilessly mocked in the name of free speech and charity.
But, like last year, the President was missing in action.
And the headline act - comedian Michelle Wolf - was pulling no punches.
''Like a porn star says when she's about to have sex with a Trump, let's get this over with," Wolf said as she opened her act.
The vicious and sometimes vulgar attacks divided opinion among the 3,000 journalists attending.
White House Press Secretary Sarah Huckerbee Sanders was among her targets.
The tone of the dinner would have done nothing to improve the sour relations between the President and the Press - a constant theme during the evening.
Margaret Talev, the president of the White House Correspondents' Association, made reference to it during her remarks.
"We reject efforts by anyone, especially our elected leaders, to paint journalism as un-American, to undermine trust between reporter and reader, or to cast doubt on the relevance of facts and truth in the modern age. An attack on any journalist is an attack on us all."

 