Pamplona protesters call for justice after 'Wolf Pack' trial verdict
Comments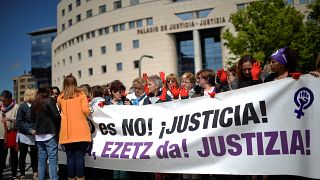 Thousands took to the streets of Pamplona, Spain, for the third day running to protest over the lenient sentences given to five men accused of gang raping a minor at a bull-running festival two years ago.
State prosecutors said they would appeal the ruling that has prompted anguished soul-searching and angry protests across Spain.
The men, who had recorded video of the attack on their mobile phones and laughed about the incident afterwards on a Whatsapp group, were convicted with the lesser crime of sexual abuse and sentenced to nine years in jail.
Shaken by the scale of protests against the court ruling, the Spanish government said on Friday it would consider revamping the criminal code to ensure that sex crimes were punished more harshly.
Protests continued on Friday outside the court in Pamplona where the trial took place. Hundreds of people chanted "We want justice" and waved signs that read "No means No" and "Justice!" Tens of thousands took to the streets across Spain on Thursday.
The state prosecutor for the Spanish regional government of Navarra said it would appeal the court ruling in coming days on the grounds of infringement of the law, arguing that the attack carried out by the five men on an 18-year old woman in the lobby of a residential building was rape and not sexual abuse.
Under Spanish law, to be charged with the more serious crime of sexual aggression or rape, there must be specific violence attached to the crime such as threatening with a knife or dealing physical blows to the victim.
Even before the court verdict, the so-called "Wolf Pack" case had already sparked widespread anger around Spain amid increased reports of sex attacks at the annual San Fermin bull-running festival and over the mistreatment of women in general.