Migrant caravan reaches border, readies for immigration showdown
Comments
By Dennis Romero and Associated Press with NBC News U.S. News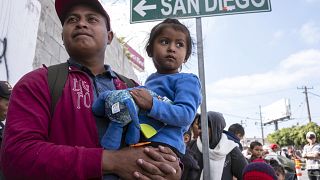 Copyright

Guillermo Arias AFP - Getty Images

-
Members of a migrant caravan have reached Tijuana, Mexico, where they were preparing for a Sunday showdown with American immigration officials. The administration of President Donald Trump has described the group as a threat, and Attorney General Jeff Sessions called the caravan as "a deliberate attempt to undermine our laws and overwhelm our system."
Nearly 20 attorneys from the United States were in the border city dispensing advice to the migrants as a healthy slice of the nearly 400 people who ventured north through Mexico from Central America planned to ask for asylum Sunday, according to Pueblo Sin Fronteras' Gina Garibo, who has been helping to guide the caravan.
The attorneys were warning asylum seekers to expect the worst, including possible separation from children and family members and months of detention as their cases are weighed.
"We are the bearers of horrible news," Los Angeles lawyer Nora Phillips said. "That's what good attorneys are for."
Earlier this month, Trump tweeted that the caravan "better be stopped before it gets there" to the border. He blamed Congress for what he described as "weak" immigration laws that encourage such migration.
The official stance of the U.S. Department of Homeland Security is that the asylum seekers, who began their trek March 25 near the Guatemalan border, should have tried to settle in Mexico. But Homeland Security Secretary Kirstjen Nielsen said their claims at the U.S.-Mexico border would be expedited "efficiently and expeditiously."
At the same time she warned that anyone who helps an undocumented immigrant make false claims of asylum could be prosecuted.
North of the border a group of nearly 20 pro-migrant demonstrators has been marching south from Los Angeles to the border since April 22 and reached San Diego's Chicano Park Saturday.
Martin Pineda, an organizer for the L.A. nonprofit Central American Resource Center (CARECEN), said participants planned to meet members of the caravan face-to-face Sunday at San Diego's Friendship Park, the only officially designated place along the U.S.-Mexico border where such cross-border encounters are sanctioned.
Members of this March Without Borders contingent suffered only a brief egging Thursday by Trump supporters in Encinitas, California, and some blistered feet, he said.
The trek south of the border was much more dangerous and taxing. A migrant who gave her name as Katerine sat in Tijuana with her baby girl, Ashley, on her lap. She told NBC News' Gadi Schwartz she wants to get to North Carolina.
She said the pair went days without food and water and used the infamous freight train known as "the beast" to get part of the way through Mexico. "We've had exactly a month without sleeping in a bed," she said.