Political crisis deepens in Armenia
Comments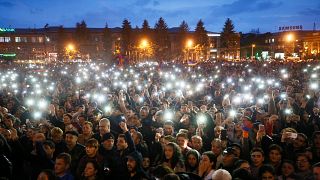 Copyright

REUTERS/Gleb Garanich
As protests continue in Armenia, there is no end in sight to the political crisis engulfing the small South Caucasus nation.
Opposition MP Nikol Pashinyan has led two weeks of rallies against the ruling elite.
The demonstrations forced the resignation of President-turned-Prime Minister Serzh Sarksyan.
But Pashinyan and his followers now want the whole government to go.
"Our movement was not against one person. Our movement is against (the) current system," he told reporters on Friday.
"We name that system corrupt...unfair... and anti-law...and we can't feel satisfied if we won't reach real changes in Armenia."
Pashinyan, who wants to be interim prime minister, has called on Armenia's current acting PM to hold talks.
But the man in question, Karen Karapetyan, has rejected the proposal.
"The acting prime minister considers taking part in 'talks' that have no chance of finding a solution to be useless," Karapetyan's press service said in a statement.
Karapetyan is an ally of Sarksyan and a member of his ruling Republican Party.
The ruling class now has every chance of seeing its candidate elected when parliament picks a new premier next week.
Protests therefore are set to continue with those seeking change determined to get it.
Greg Grigoryan, an activist with the 'Reject Serzh Movement', told Euronews:
"The resignation of Serge Sarksyan is not enough for the change of Armenia. Plus this is not just a demonstration, this is also an awakening. This is an awakening where people demand more freedom, people demand more transparency from the government."
Protesters held a rally on Friday in Gyumri, Armenia's second biggest city, and plan to hold another outside the capital on Saturday before resuming protests in Yerevan from Sunday.
Thousands of people greeted Pashinyan's cortege and chanted his name along the road from Yerevan to Gyumri. In some villages he met local residents who hugged and kissed the former journalist turned lawmaker.
Our correspondent in Yerevan, Apostolos Staikos, said:
"All eyes are on the election of the new prime minister on May 1, and on what happens next, as Nikol Pashinyan says he won't accept any candidate from the ruling Republican party."
with Reuters