Alfie Evans: Thousands of balloons released in tribute to toddler
Comments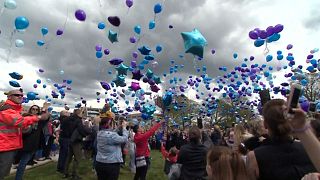 A crowd gathered outside Alder Hey hospital in Liverpool, UK, to release thousands of balloons in tribute to Alfie Evans, a terminally-ill toddler who died Saturday morning.
People released bunches of blue and purple balloons, some of which had messages written on for the 23-month-old.
His illness drew international attention and was the subject of a court tussle over his care — the case provoked strong feelings over whether judges, doctors or parents have the right to decide on a child's life.
Alfie had a rare, degenerative disease and had been in a semi-vegetative state for more than a year.
Alder Hey hospital removed his life support on Monday, against his parents' — Tom Evans and Kate James — wishes but he confounded expectations by continuing to breathe unaided.
However, his father announced that he had died in the early hours of Saturday, with the memorial taking place just hours after.
Alfie's parents were supported by the Pope, who tweeted saying he was "deeply moved by the death of little Alfie" and that he was praying for the toddler's parents.