Alfie Evans: 4 questions answered
Comments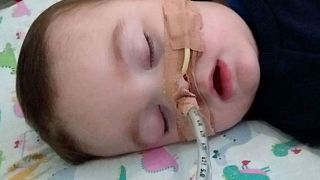 -
Copyright

Thomas Evans/Facebook
Toddler Alfie Evans has been at the centre of a life support battle between his parents, health officials, courts and even the Vatican for the past few months. But just who is Alfie and what's happened to him?
Why did doctors want to turn off Alfie's life support?
Alfie Evans was born to parents Tom Evans and Kate James from Bootle in the North West of England on the 9th May 2016.
In December 2016 he was admitted to Alder Hey Children's Hospital in Liverpool suffering seizures. He has been a patient at the hospital ever since in a semi-vegetative state.
Alfie is suffering from degenerative neurological condition but doctors haven't been able to identify it.
Alfie's parents have clashed with the hospital over what should happen to their boy. They've engaged with the media and used social media to build a supporters network known as Alfie's Army who have controversially been protesting outside the hospital.
Why are the parents challenging the doctors?
Alfie's parents Tom and Kate want to fly him to the Bambino Gesu Hospital in Rome in the hope of prolonging his life. The hospital has links to the Vatican and the Pope has publicly supported them. Father Tom even flew to Rome to be granted an audience with the Pontiff.
But this request has been blocked by the hospital who believe continuing treatment is "not in Alfie's best interests".
The court battle began at the High Court in Liverpool in December last year. The hospital argue their scans show "catastrophic degradation of [Alfie's] brain tissue" and that further treatment was not only "futile" but "unkind and inhumane".
The judge Mr Justice Hayden ruled in Februarys doctors should stop providing life support against Alfie's parents' wishes. They then appealed fighting in the Court of Appeal which upheld the decision. The Supreme Court justices refused permission to mount another appeal and the European Court of Human Rights (ECHR) also declined the case.
Mr Justice Hayden endorsed and end-of-life care plan for Alfie on the 11th April but again his parents tried to appeal claiming their son was being "unlawfully detained". This was rejected for a second time by the Court of Appeal and the Supreme Court. The ECHR again refused to intervene prompting angry protests outside the hospital.
The Italian Ministry of Foreign Affairs has even granted the 23-month-old Italian citizenship in an attempt to transfer him to the country. However this was dismissed by Mr Justice Hayden who says he is British and "falls therefore under the jurisdiction of the High Court".
What does the law say about who can decide?
Whilst it's generally agreed that parents are allowed to determine what happens to their children there are limits.
If a parent's decisions risk significant harm to their children then the law intervenes. The Children Act 1989 describes legal parental responsibility as "all the rights, duties, powers, responsibilities and authorities which, by law, a parent of a child has in relation to the child and his property". A public body can disagree with these choices and can go to court in order to override this parental responsibility.
When it comes to medical treatment of children British law tends to favour doctors' decisions with regard to life-saving treatment over the rights of parents. The classic example being doctors' ability to overrule parents who are Jehovah's Witness who refuse their child's blood transfusion because of their faith. However, in other jurisdictions like the US the law falls more heavily on the side of parents even if this goes against the recommendations of doctors.
But in extreme cases like this where the question is around withdrawing treatment there are no clear statutory tests. It's dealt with on a case by case basis with judges deciding what is in a child's best interests.
Are there any other similar cases in the UK?
Last year Charlie Gard's parent's Chris Gard and Connie Yates fought a lengthy battle in British courts over his medical treatment.
The 11-month-old baby had a very rare condition known as mitochondrial depletion syndrome. It made cause progressive muscle weakness and brain damage because he was unable to get energy to his organs.
Charlie had irreversible brain damage and could not move, see, hear, cry or swallow. There was nothing Doctors at world-renowned Great Ormond Street Hospital (GOSH) in London could do so they argued Charlie should be allowed to die with dignity.
However, his parents and their supporters raised millions of pounds and fought for him to be flown to America for an experimental treatment.
GOSH doctors applied to the High Court for judges to decide on Charlie's fate. They agreed that life support should be withdrawn but Charlie's parents appealed against the decision.
The case drew worldwide media attention with the Vatican becoming involved and even US President Donald Trump tweeting his support.
The parents' appeals were rejected with the Supreme Court and the European Court before another hearing in the High Court which again concluded that it was in Charlie's best interests that he be allowed to die with dignity.
Charlie's parents abandoned their legal fight when even Professor Hirano, the US doctor who offered an experimental treatment, flew to the UK under court orders and determined Charlie's condition was irreversible.
Charlie passed away after being moved from GOSH to an unnamed hospice where life support was withdrawn on the 28th July.
The case proved divisive with the public with some believe Charlie's parents ultimately should be allowed to decide on his treatment and fate. Charlie's parents believe had they been allowed to take him to the US for treatment earlier he could have had a normal life.